What's all the fuss?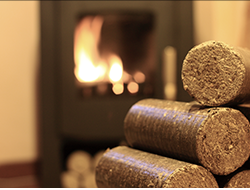 Wood pellets could have been just another fad, but instead turned into a strong alternative to traditional heating systems.
But like all popular products you have to separate the quality offerings from the cheap items. And the team at Guy's Farm and Yard guarantees you'll never waste your money on sub-par pellets.
Pellet Stoves Versus Traditional Wood Stoves:
Compressed logs and pellets offer a denser, low-moisture alternative to traditional wood.
They break down slowly, giving you a higher BTU output and a steadier, longer lasting heat source.
They are built from wood waste and other compost materials for a cleaner burn.
We carry only the highest quality pellet and compressed logs, so you get the cleanest, longest burn, the most efficient warmth, and the least amount of ash. Call the team at Guy's today!
Explore what we have to offer:
Softwood
Hardwood
Mix
Compressed Wood Logs
Back to top ▲