Are you still gardening in the stone ages?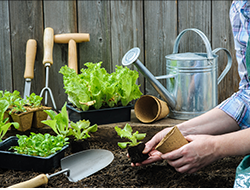 Gardening tools are advancing by leaps and bounds and Guy's carries all the newest and toughest products.
Give your wrists a rest with ergonomic designs, ultra lightweight aluminum and rust-free stainless steel rugged enough for our professional landscaping customers.
The gardening tool selection at Guy's is guaranteed to hold up longer and get the job done faster than any tool in your arsenal. Welcome to the future!
Explore what we have to offer:
The Yankee:
Garden Works
Tools made in the USA. Rust-free stainless steel, ergonomic comfort grip, and bright handles to keep them from hiding in your tool box.
The Aficionado:
DeWit
Made in Holland. High-quality steel head tools with ash wood handles. Offering basics like trowels and cultivators, as well as rare finds like the popular "Cape Cod" weeder.
Pottery:
Other Brands:
Back to top ▲