A happy home makes happy plants.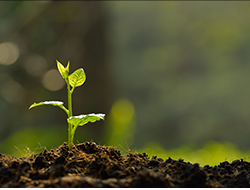 Close your eyes and imagine your perfect home. Is it a toasty 75° or a crisp 50°? Do your feet touch soft carpet or hardwood floors? Is your fridge stocked with junk food or fruit?

Soil is home to your plants. And just like you, every plant has a different idea of the perfect "home".

Guy's has the advice and soil you need for any plant, garden, yard or farm. From traditional to organic, exotic to basic, we'll help you find the perfect soil so your plants grow to their full potential!

Explore what we have to offer:
What mix do you use for seed starting and potting?
We offer many options depending on your needs:
Soilless mixes offer less risk of damping off.
Peat pellets are convenient, easy to use, and contained in a mesh bag so they minimize the mess. They are also a good choice when working with kids.
Compost-based local mixes (usually organic) offer a balanced diet for the seedlings