Fencing you can swear by, not swear over.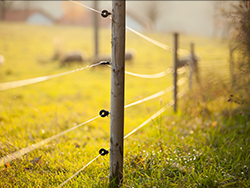 Any store can send you home with a top-of-the-line fencing system, but Guy's guarantees that you won't be cursing over that same fence whether it's three hours or three weeks later.
Each person on our team has hands on experience building and maintaining livestock fencing and we'll work with your vision, price points and requirements to ensure you get the best, but more importantly we'll make sure you get it up and running without hassle.
Explore our Fencing FAQ, contact our Local Guy's Fencing Expert or investigate Our Brands below.
Fencing FAQs
Fencing Brands
Fencing Rewards
Explore what we have to offer:
Teacher's Pet
High quality fencing, backed by warranties and great technical support. In our customers' words, it outlasts and outworks similar products in the fencing categories.

The Yankee:
Made in the USA, offering a wide variety of products at a reasonable price.

The Horse Whisperer:
Tried and trusted by the horse community. More than 25,000 miles in use in the USA alone. High-quality, effective, and manageable installation and maintenance.
Other Brands:
Back to top ▲