Could you sleep with shavings in your sinuses and wood chunks poking where the sun don't shine!?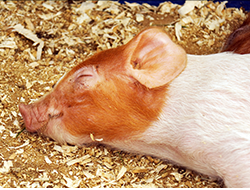 Guy's offers a range of particle sizes to cut down on aggravating dust and painful wood chunks.
Our products are available in a variety of sizes so you never buy more than you need.
Explore what we have to offer:
Pine Shavings
Ripe de Bois in 2.8 cubic ft. bags for any class of animal and Top Bedding in 3.25 cubic foot bags. Our Top Bedding comes in two different particle sizes so your animal can avoid annoying dust in their sinuses.
Compressed Pellets
Made of compressed pine sawdust, bedding pellets are exceptionally absorbent, and are used for livestock, rabbits, poultry, and even cats! Guy's carries Boreal brand in 30 lb bags and Top Bedding pellets in 35 lb bags.
Caged Animal Bedding
For your rabbits, guinea pigs, rats, and hamsters we carry Aspen shavings from Kaytee, which are less likely to cause respiratory stress from aromatic oils. We also carry the trusted, LM Farms Red Cedar Shavings.
Back to top ▲